Instructions on How to Draw A Cartoon Squid Easily
How to Draw A Cartoon Squid. The oceans are full of different weird and amazing sea creatures. It is believed that many species and variations are yet to be discovered, even at the depths!
Also, check our Free Printable Lion Coloring Pages and Unicorn Coloring Pages.
Few of these creatures are as weird and amazing as squid! These slippery creatures come in many shapes and sizes and can be quite small or, surprisingly, quite huge.
This guide will show a funny portrait of how to draw a cartoon octopus. By the end of this guide, you will know exactly how to draw your adorable squid!
How to Draw A Cartoon Squid
Step 1
To start with this cartoon squid, let's start with the top of the head.
Like a real squid, this top is long, rounded, and pointed; the reference image will show you how to portray it.
Some fins will also have rounded triangular shapes on the sides.
The base of this top has rounded edges on each side, and there is a simple curved line between them.
You'll notice a gap left at the base, but we'll fill that in as we move on to the next steps in the guide!
Step 2
In the second step of this tutorial on drawing a cartoon squid, we will add the outline of the head and face of this cute squid.
The outline of the head extends from the edges of the part you drew in the previous step, which is drawn as curved, wavy lines.
For the face, you can draw two eyes of oval shapes that have round pupils inside. These also have some curved lines at the top for the eyebrows.
Finish with the big smiling mouth underneath, and then we'll move on to step 3!
Step 3
It wouldn't be a big squid without some tentacles, so in this step, we'll add some for the cartoon squid design!
The main tentacle extends outward from the base of the face, and the outline is drawn with curvy lines.
Because of the angle at which this main tentacle is located, we also see the underside, where there are many suction cups. These are drawn with rounded lines, each containing a large black dot.
Behind it will be other smaller tentacles, but we won't see the suction cups on these. We can add more tentacles when we get to the fourth step of the guide!
Step 4
For this fourth step of the guide, we're going to repeat what you did in the previous step, only this time in reverse order.
We will draw another big tentacle with many round suction cups underneath.
We'll also add other tentacle shapes behind this one, of which we'll only see the tips.
You can even change the position of these tentacles if you like! There are still a few spaces left, but we'll fill them in when we get to the fifth step of the guide.
Step 5
We'll be adding some colors to this cartoon squid theme soon, but let's add the final details first.
This squid already has a lot of tentacles, but we're going to add four more to fill in the last few gaps.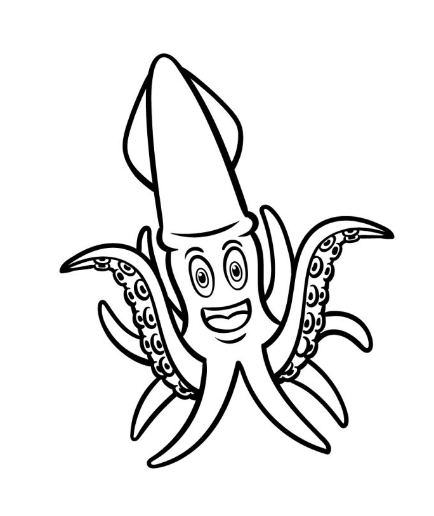 Because of the placement, we don't see the suction cups, so they're drawn using simple long curved shapes.
When you're done adding those tentacles, remember to add details you might like!
A background can make a great drawing look even better, and you can create many amazing sea backgrounds for this squid.
You could even add more sea creatures to hang out with! It's up to you now, so how will you finish it before the final run?
Step 6
You've reached the final step of this how-to guide on drawing a cartoon squid, and it's really fun!
In this one, we will finish this cute squid with amazing colors.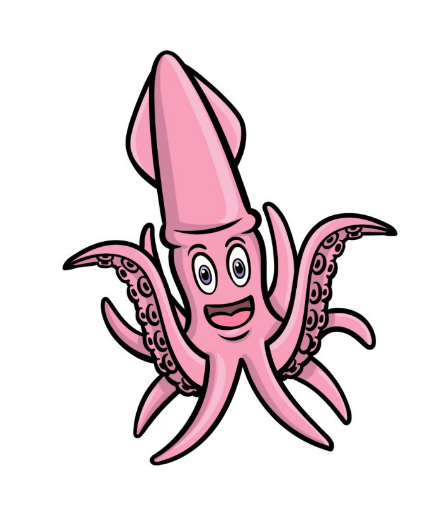 In the wild, squid can come in almost any color imaginable, giving you freedom in how you color this guy.
Our reference image showed you one of the many ways you can color this squid.
We used different shades of pink for the body and tentacles, and you should try using similar colors if you like this look.
Remember to have fun getting creative with this while playing with colors and artistic means. If you Unleash your creativity, sometimes you might even surprise yourself with what happens!
Your Cartoon Squid Drawing is Finished!