Is Wall Hung Vanity Unit a Good Option for a Cloakroom?
Floating style vanity units the space-saving floating style vanity units have gained a lot of popularity over time. It is because these are highly practical and aesthetically pleasing while taking considerably less space. Though these were considered contemporary designs, traditional bathrooms now have such styles as well. Therefore, it will be safer to say that these are transitional designs. 
What are Cloakroom Vanity Units
if you have a small bathroom or cloakroom, it does not mean you don't need storage for it. Therefore, you will need a cabinet or a vanity unit. So, you can keep bathroom essentials out of sight in a safe space. But what kind of vanity can be a suitable option for a cloakroom? 
"A cloakroom is usually the smallest bathroom downstairs or near the entrance of the house that is for the guests or anyone else who is visiting the house. It allows them to relieve themselves without entering into the main area. And where you usually have only a toilet and a sink. So, instead of just a sink, there is the possibility of installing a vanity sink unit that fits on the wall. That is what makes them a perfect option to be used as a cloakroom vanity unit.
Advantages of Wall Hung Vanity Units in a Cloakroom
There are the following advantages of wall hung vanity units in a cloakroom.
Feeling of Spaciousness
When you lack space in the bathroom, anything that takes up space on the floor can make it congested. Therefore, you will need bathroom storage can bring a feeling of spaciousness. And wall-hung vanity units are just the right option for that. These have no occupancy on the floor and are not bulkier like many floors standing vanities. That makes them an ideal option or small spaces where you want to save every inch. While it will fit on the wall, the space around will remain empty.
Extensive Storage Capacity
The wall hung vanity units are just the right if you are looking to add bit more storage capacity. While most of the floor standing and wall mounted vanities have internal compartments for storage, there are few types that can offer you space underneath the vanity. This kind of open-ended wall hung style turin vanity unit can be a good option if you are looking for a lot of space to store bathroom essentials.
Easier Cleaning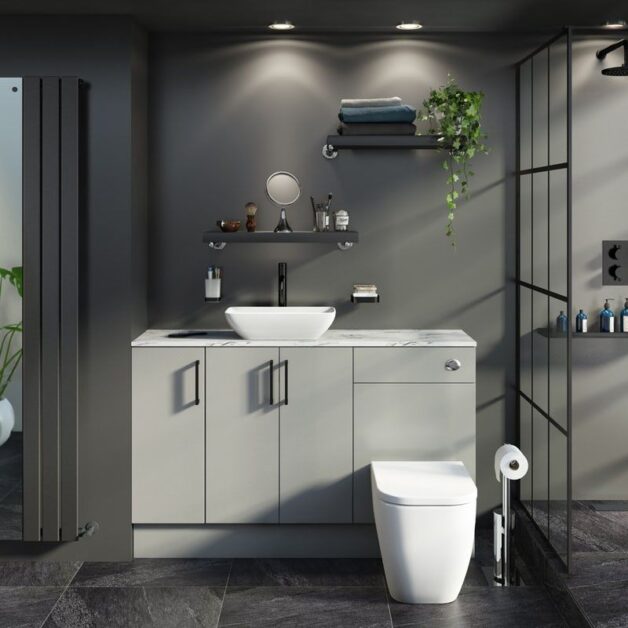 A small bathroom or cloakroom does not mean you should not make cleaning a priority. However, your choice of bathroom vanity unit will have a huge impact on it. The good news is that a wall hung vanity unit has the space underneath empty. That makes it a lot easier and hassle-free for cleaning purposes. Which is usually a lot of problems in the case of floor-standing vanity.
Height Adjustment
Another advantage of the floating-style vanity unit is that you can fit it at your desired position. While there is a standard height for that is suitable for most individuals. But if you have small children or anyone with more height, then it may be wise to adjust it according to your requirements. That gives the flexibility to choose the heigh that others don't.
Contemporary Design
Nowadays most homeowners are looking for a modern bathroom. That is all about minimalism. So, to something to be contemporary, it needs to have a contemporary design. Since the wall hung vanity units are space savers and compact, it makes them a perfect option as contemporary bathroom storage. So, if you want your bathroom to look modern, then a storage cabinet should be your best bet. 
Luxurious Looks
The wall hung vanity unit is a luxurious piece of furniture with a modern design that will add style to any bathroom. These features a clean and sleek look with a p. This piece of furniture is also very practical as it has a large storage space which is perfect for keeping your makeup, toiletries, and other essentials. Due to the fitting over the wall, it creates highly attractive looks. That makes it a suitable choice if you are looking for a luxurious piece without spending too much on it. Not only do these easily become the center of attention, but they help you to create a contemporary bathroom design. 
Final Thoughts
We hope that you enjoyed our blog post on the advantages of wall hung vanity units. We know that many people prefer a wall hung vanity unit as a cloakroom vanity unit to vanities with a counter. They are so much more convenient, especially in a small bathroom with limited space. There are so many more advantages that come with them that we can't even go over them all in this article.