What Is The Best Outdoor Cushion Material? – Best Guide
Do your outdoor spaces look tired and drab? Do you want to add a glance to it? If yes, then placing outdoor cushions on your outdoor sofas and chairs is the best solution to all your problems. Colorful cushions have the ability to transform the look of the entire place.
You can select any type of cushion for your place according to your requirements and aesthetics. You must be careful when choosing the material of the cushions as you have to place them in an outdoor area where they will have to withstand the harsh environment.
If you want to know about the best material for outdoor furniture cushions, then this blog is going to be very helpful for you.
6 Best Materials To Use For Outdoor Cushions
There are many fabrics and materials available for cushions, but they are not suitable for outdoor cushions. These are some of the more remarkable materials for outdoor area cushions.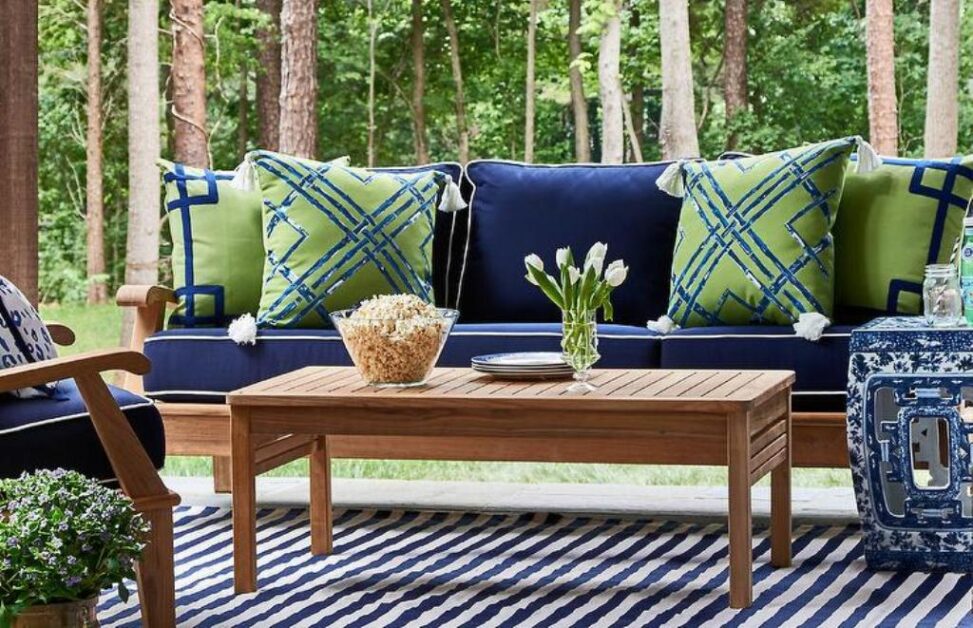 1. Vinyl
Outdoor cushions have to bear winds, dry environments, and rain. Vinyl covers are the most suitable for them because they can bear all types of weather. Vinyl covers do not have a fabric-like texture; instead, they have a plastic-like texture that makes them super easy to clean and maintain.
These cushion covers are also resistant to UV radiation. That's the reason they never fade. Vinyl is also completely water-resistant, as water never gets absorbed into it but instead slips away from it. In this way, after heavy rain, you can definitely use vinyl cushions by just cleaning them with a dry mop.
2. Olefin
Olefin is also known as polypropylene. This fabric is very common for the making of outdoor cushions. Polypropylene is actually a plastic-like material that is woven to create fabric for outdoor areas. This fabric has plastic fibers, so it is amazingly durable and reliable for all types of outdoor areas.
This fabric is completely resistant to food-based stains. This can easily be cleaned with a wet mop whenever it gets stained by any food material. This material also has a wax coating which prevents the cushions from mold and mildew growth.
3. Spun Polyester
100% polyester fabric is not suitable for outdoor furniture because it is not too resistant to damage. In order to get long-lasting service, spun polyester is now used for outdoor cushion covers. This material almost has double the durability as compared to cotton and polyester blends.
This fabric is best for cushions that remain in contact with kids or pets. Fine quality polyester spun never shrinks and provides you with unlimited benefits. This fabric is also very easy to clean, but if there is an oil stain on it, this stain will be very difficult to remove.
4. Cotton Canvas
Cotton canvas has been used for centuries for the upholstery of furniture. But now the modern blended cotton canvas fabric has been introduced to the market, which has remarkable properties. This fabric is completely resistant to stains. If there are any stains on your cushions, you can easily clean them with a wet mop and detergent.
This is one of the best outdoor fabrics for cushions because it is highly durable. It is never easily damaged by pets. This is resistant to water to a particular extent only. You just need to dry the cushions completely in the sunlight after heavy rain.
5. Sunbrella Fabric
Sunbrella is also another ideal fabric for outdoor cushions because it has all the properties that are essential in the material of outdoor cushions. If your budget is high, then this fabric could be the best option for you. Sunbrella fabric is available in almost all colors, so you can make your cushions in the same color as your sofa upholstery.
This fabric is completely waterproof, so it never initiates the growth of molds and mildew on your cushions even when they remain wet for a long time. The cleaning process of these cushions is also very easy.
6. Textilene
Textilene is a synthetic fabric that is a blend of vinyl and polyester. Polyester fibers are used to make this fabric, and then the vinyl coating is used on it to make it ideal for use in outdoor areas. Textilene fabric is also widely used in the upholstery of outdoor chairs and sofas. This fabric will make your cushion completely long-lasting.
This fabric is not only water resistant, but it is also resistant to flame. Even UV radiation can't destroy the beauty of this fabric. The cushions have Textilene covers and are also very easy to clean. The only downside to these cushions is that they are not comfortable.
Conclusion
Outdoor cushions should be durable, water resistant, stain resistant, and easy to clean, so the user can use them for a long time without too much need for maintenance. There are many fabrics available for outdoor cushions, but olefin, vinyl, duck cloth, spun polyester, cotton canvas, Textile, and acrylic are best for them. Try to choose one of them if you want to get the longest-lasting cushions for your outdoor area.